Quadrants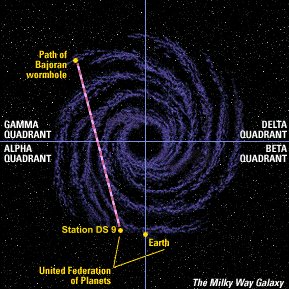 In interstellar mapping, a Quadrant is one-fourth of the milky
way galaxy, The galaxy is devided into four Quadrants, each
forming a 90-degrees pie wedge s seen from above or below
the galaxy plane. The for Quadrants are labeled Alpha, Beta,
Delta and Gamma. The United Federation of planets is mostly
located in the Alpha Quadrant, although parts spill over into
Beta, Station DS9 is located in the Alpha Quadrant, as are
the Cardassian Union and the Bajoran homeworld.
The Klingon and Romulan Empires are located in the Beta
Quadrant, although they spill over into Alpha. The Borg
homeworld is located in the Delta Quadrant, While the
Bajoran Wormhole has one terminus in the Gamma Quadrant
which houses The Dominion.